Fresh! Gems TV Inventory Just Purchased!

Brands from Christian Bernard: Hearts On Fire & Many More!
STUDS Blowout! Be prepared for the season!

Rounds, 0.20 ctw; $20, SS+14kt
Rounds, 0.50 ctw; $250-$300; 14kt; I-J SI2-VS2
Princess, 0.78 ctw; $450; I-J SI3
Princess, 1.25 ctw; $600; I-J SI3
More Brands At Unbelievable Prices
Henry Dunay
Yurman
Hardy
Hearts on Fire
Gucci
Roberto Coin
Gregg Ruth
Peter Storm
Kurt Wayne
Simplex Also Won: Henry Dunay, BBB's Estate Collection, Whitehall, Colibri, Christian Bernard, Fortunoff, IDG Jewelers, Downey Creations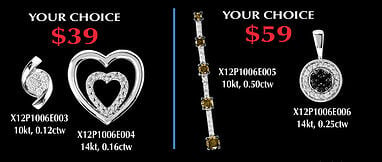 LIMITED QUANTITIES WHILE SUPPLIES LAST
This website is for informative purposes only and SimplexDiam Inc. does not guarantee, or make any warranties to the accuracy of the information. All carat weights are approximate, pricing is subject to change, and quantities are limited. Any names or trademarks used besides SimplexDiam Inc, SDX, are not the property of SimplexDiam Inc. Brand names used are for new or estate pieces that carry the correct matching trademarks. Items have been purchased legitimately from the owner of the brand, or from customers of the owner of the brand. All items are new, or refurbished, and do not come with chains. We do our best to make sure that we represent things accurately, please forgive any mistakes.